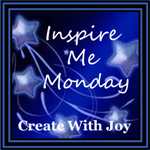 Since I didn't get the chance to put together another Crochet Basics entry for today, I thought I'd participate in Inspire Me Monday, hosted by
Create With Joy
.
Basically, you share what's inspiring you at the moment, or in general. It can be anything, writing, photography, crafts, art, food, whatever.
So what inspires me? Lots of things, but in general, great stories, great art and general geekery inspires me to be creative.
DON'T PANIC pouch is inspired by The Hitchhiker's Guide to the Galaxy, by Douglas Adams.
Leonardo is from the Teenage Mutant Ninja Turtles. He and Donnie are still hanging out in my Storenvy Shop.
The gauntlet to the right is inspired by Deadpool, an off the wall character from Marvel Comics.
A small selection of the many books that inspire creativity.
So, what inspires you?